The County Administrator is appointed by the Charlotte County Board of County Commissioners. It is the responsibility of the County Administrator to implement decisions, policies and ordinances of the Board. The County Administrator has the authority and responsibility to manage the day to day operations of the county in a manner consistent with the Board's policy and directives.
Leadership is provided by directing, facilitating, coordinating, planning and supervising the programs and services of the county.
At Charlotte County, we strive to provide answers and address your concerns. Let us know how we can help.
Mission: Delivering Exceptional Service
Vision: To preserve and enrich our community's quality of life for those who live, work and play in our paradise.
Values: Charlotte CARES – Committed, Accountable, Resourceful, Energetic, Supportive
---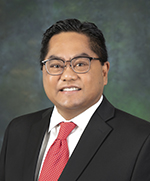 Hector Flores
County Administrator
Hector has been with Charlotte County Government since October 1995, when he started as an Assistant Budget Analyst with the County Budget Office. In 2002, he was promoted to Fiscal Supervisor for Charlotte County Fire/EMS; in 2007 he was promoted to Financial Manager. In December of 2010 Hector joined the Administration Department as an Operations Research Analyst and became Assistant to the County Administrator in August of 2012. In 2016, he became the Assistant County Administrator, and in 2019 became a Deputy County Administrator. In March 2020, he was named County Administrator.