Charlotte County Human Resources department is responsible for hiring, developing and supporting employees who want to "Work Where You Can Make a Difference." Our staff partner with other departments to deliver exceptional service and assist employees with their needs while fulfilling our Charlotte CARES values.
Charlotte County Government is an Equal Opportunity Employer which promotes diversity and inclusion in its workforce.
---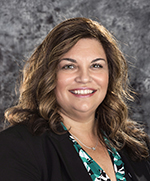 Heather Bacus
Director of Human Resources
Heather joined Charlotte County as Human Resources Director in 2012.