Charlotte County Community Services is committed to providing quality programs and facilities for residents and visitors to our county. We believe recreation and leisure activities, reading, music, art, and history are essential to personal growth, positive self-esteem, and relaxation. Our parks and open spaces are an integral part of our community identity.
View the latest news and closings related to Hurricane recovery.
---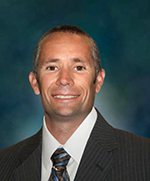 Tommy Scott
Director of Community Services
Tommy joined Charlotte County as Community Services Director for Charlotte County in 2013. Prior to joining Charlotte County, Tommy was the Recreation Manager for the City of Boise in Boise, ID; the Executive Director for Encore Facility Management in Youngstown, OH and Rio Rancho, NM; the Public Relations Manager and Public Event Coordinator for River Parks Authority in Tulsa, OK.